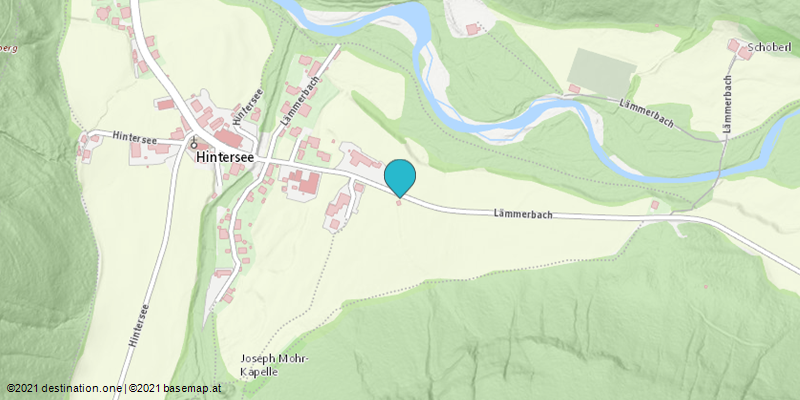 Silent night! Holy night!
The following photo gallery can be navigated with the arrow keys (left, right).
Special features
From price
€ 155,00 per person
Bookable from: 1 person
"Stille Nacht! Heilige Nacht!" the german name of the famous song "Silent night! holy night!".
The christmas song is translated in over 170 language and it´s well known since nearly 200 years.

​​3 nights
from € 155,00 per person in a doubleroom

Did you know that the famous song stems from the Salzburger Land? The priest Joseph Mohr wrote the song text and Franz Xaver Gruber composed the melody.


Oberndorf
A historical attraction pole is the Stille-Nacht-Chapel in Oberndorf. The small Chapel shows the song creators Joseph Mohr und Franz Xaver Gruber.On the 24th December 1818 the song was sung for the first time in the Chapel in Oberndorf.


Holiday region Fuschlsee / Hintersee
From 1827 to1837 Joseph Mohr was a vicar in the village Hintersee and was able to lead the rectorate by himself. In the Joseph Mohr Haus in Hintersee you see the priest´s cassock and some original exhibits from Joseph Mohr.
Services
​
3 nights incl. breakfast
1 x Entry in the silent-night-chapel and museum in Oberndorf
Visit of the silent night village Hintersee
1 x Lantern walk to the Joseph Mohr Chapel in Hintersee
1 x Entry in the Joseph Mohr house and the doll museum in Hintersee
1 x Day ticket for the Wolfgangsee boat trip
Visit of a Advent der Dörfer Christchild bazaar in the Fuschlseeregion
1 x Hot drink at a "Advent der Dörfer" bazaar
1 x Advent gift
​
from€ 155,00 per person in a double room
Travel period
23.11.2017 to 26.11.2017
30.11.2017 to 03.12.2017
07.12.2017 to 10.12.2017
21.12.2017 to 24.12.2017
Possible date of arrival
Thursday untill Sunday on all four Advent weekends. Depends on availabilities.
Price information
The price is per person in a double room and for the stay and the included services:
in a pension from € 115,00
in a *** Hotel from € 235,00
in a **** Hotel from € 265,00
The prices are excl. the local tax.
Other categories on request possible!
Suitability
Suitable for seniors
Suitable for friends
Suitable for couples
Suitable for children
Particularly suitable for
My recommendations
Offer
From
€ 155,00
(per person)
OFFER
History. Message. Present.
Time period: 23.11.2017 - 24.12.2017